PT850 PRODUCT LAUNCH
Snap-on Tools
Advertising
Product Launch
The Goal
In an industry where most air impacts were either under or overpowered, too heavy, too uncontrollable or too unreliable, Snap-on engineers came up with a new air impact that offered the best of all worlds. And getting the message out about such an unexpected tool would require some unexpected creative. Considering the PT850 was the first air impact that was "just right," a certain fairy tale came to mind, resulting in dreamlike photography and an integrated campaign.
THE TECHNIQUE

We developed a somewhat faithful recreation of the classic "Goldilocks and the Three Bears" storybook. Literally. But instead of traditional watercolor illustrations, we chose to tell the story through stylized photography capturing the fantasy nature of the fable in a true-to-life auto shop environment.

CUSTOM PROP TOOLS

To illustrate the "not right" tools that served as a foil to the PT850, we designed and built prop impact wrenches named for their negative traits: "Brute" was too powerful; "Hernia" was too heavy; and "Mayrun" was too shoddy. After the photo shoot, they were displayed at the annual Snap-on Franchisee Conference.

A CAST OF CHARACTERS

Foregoing the typical model search, we chose street casting for our characters. Each brought a necessary sense of technician reality to the fantasy premise.
FOR BOOKSHELVES AND SHOPS ALIKE
Early on we decided that standard collateral wasn't enough for this campaign. So we took inspiration from classic children's books and had "Goldilocks & The Air Impacts" printed as a limited-edition hardcover storybook available to franchisees and their customers.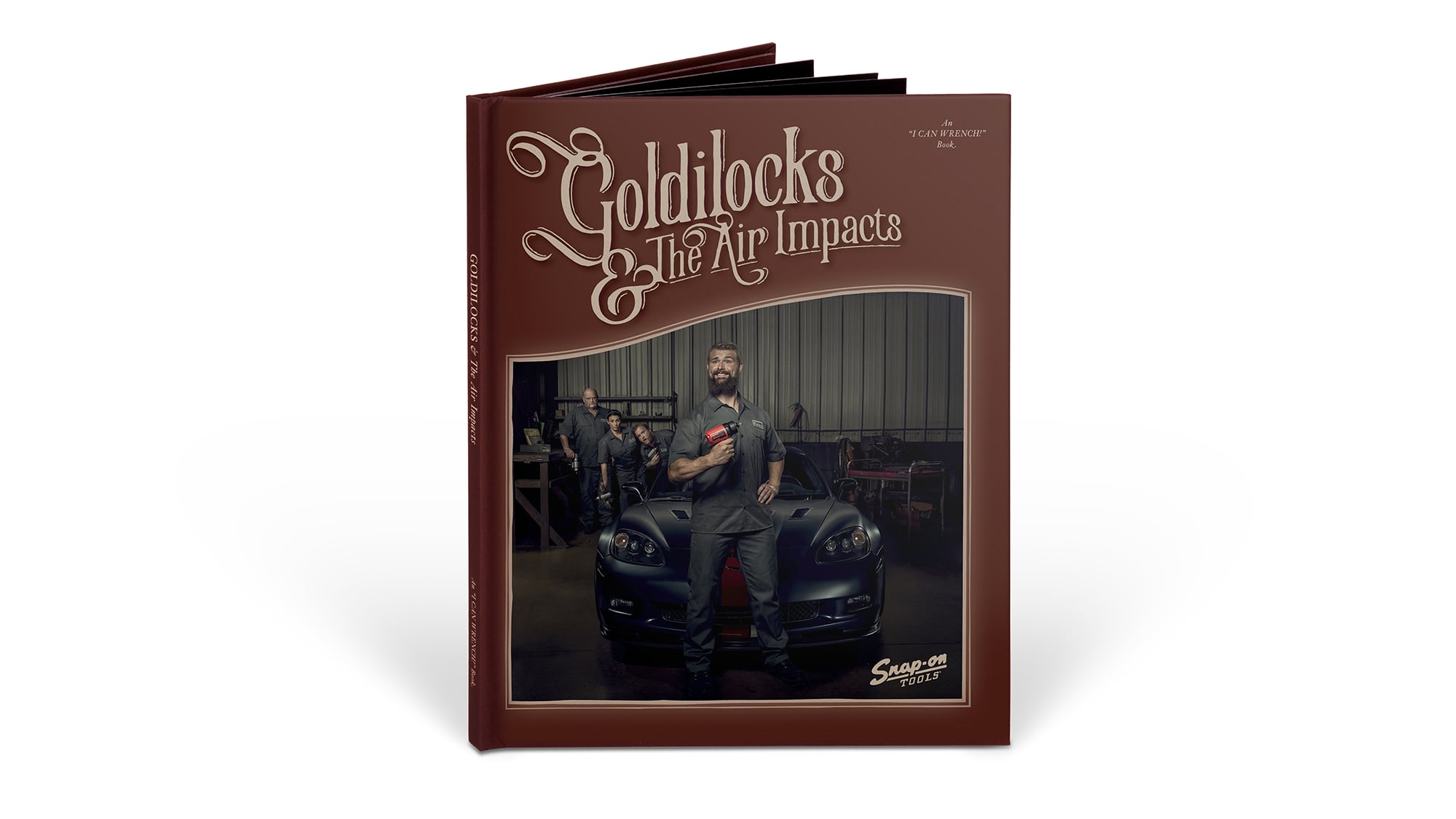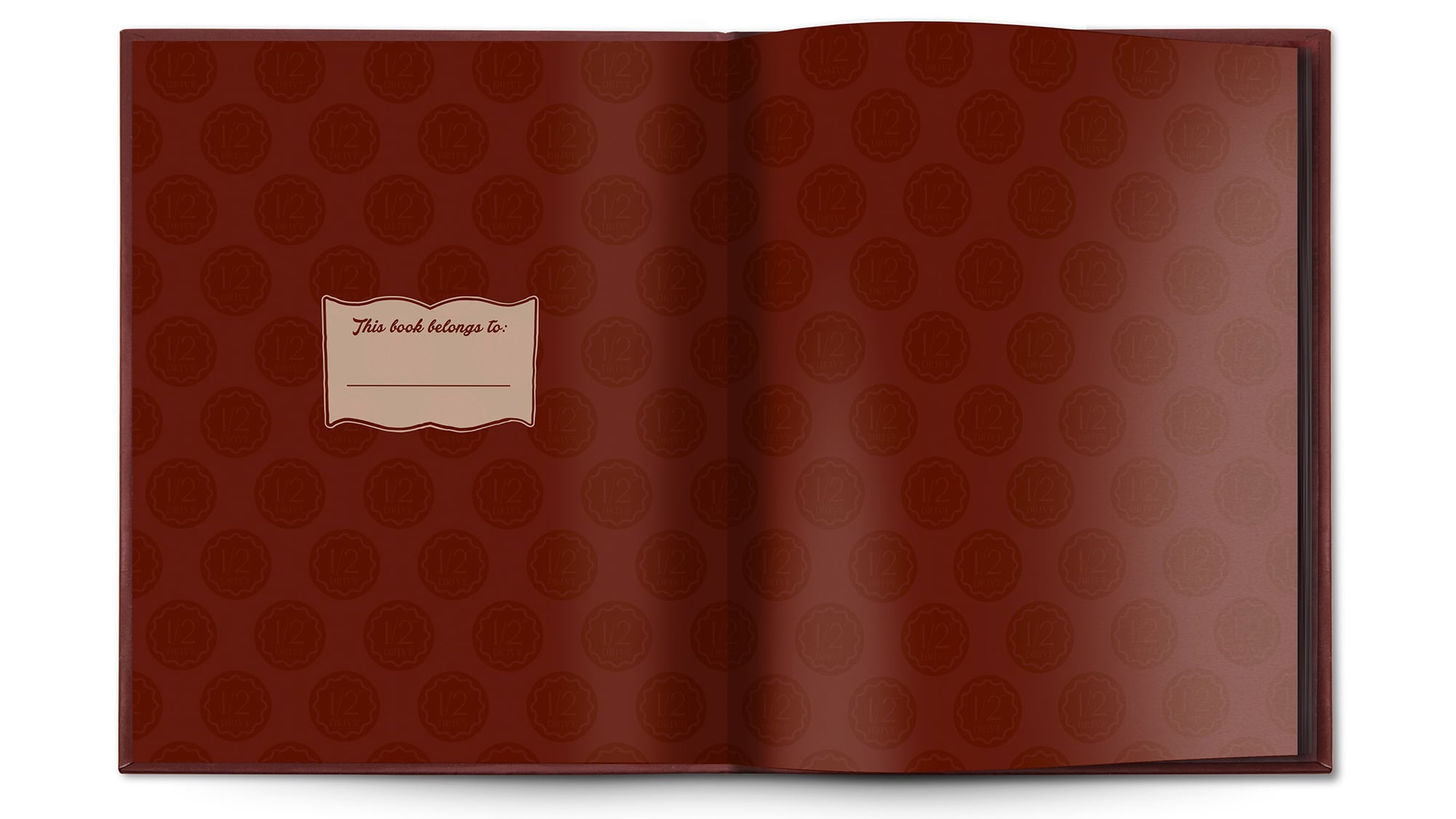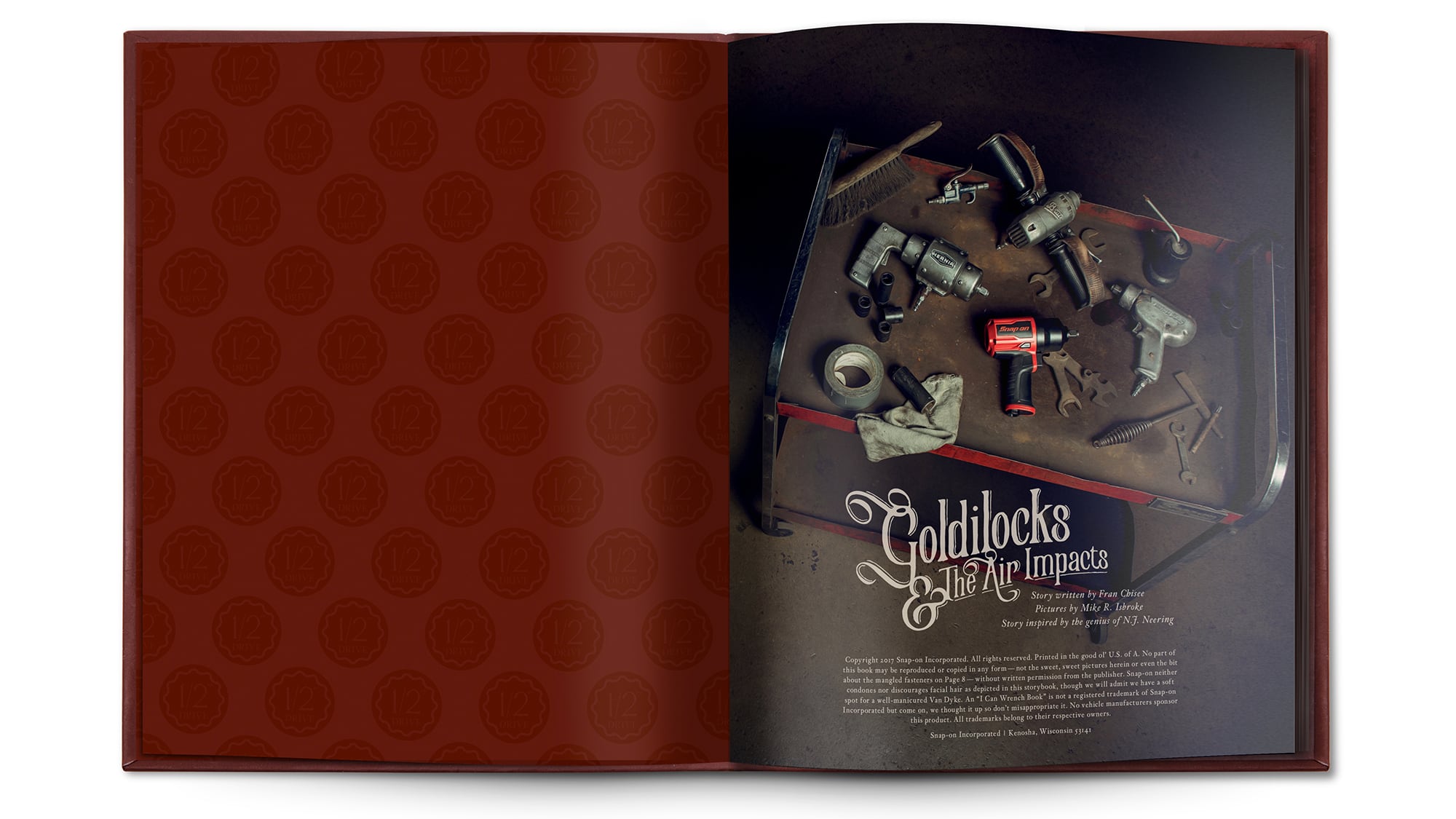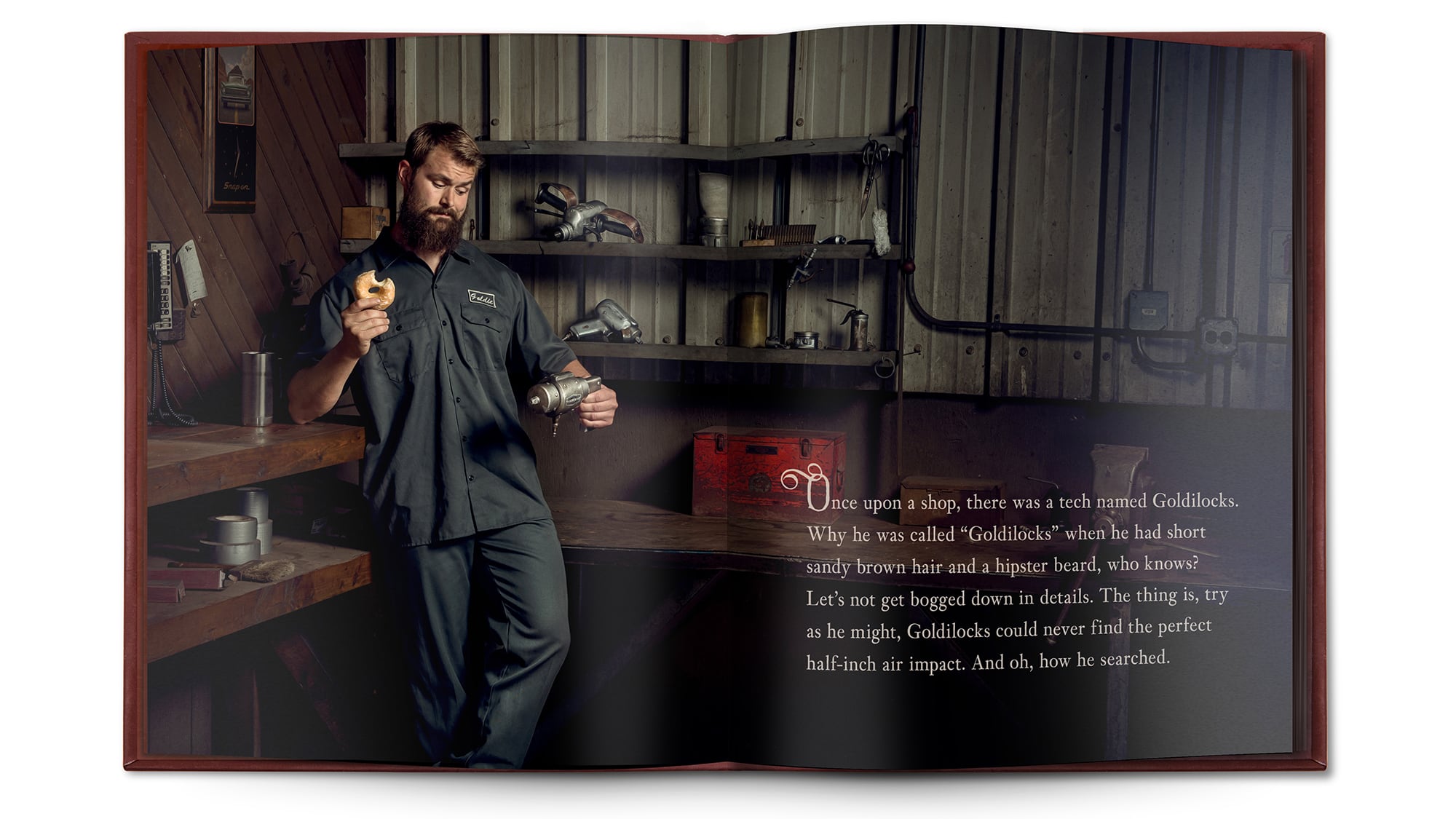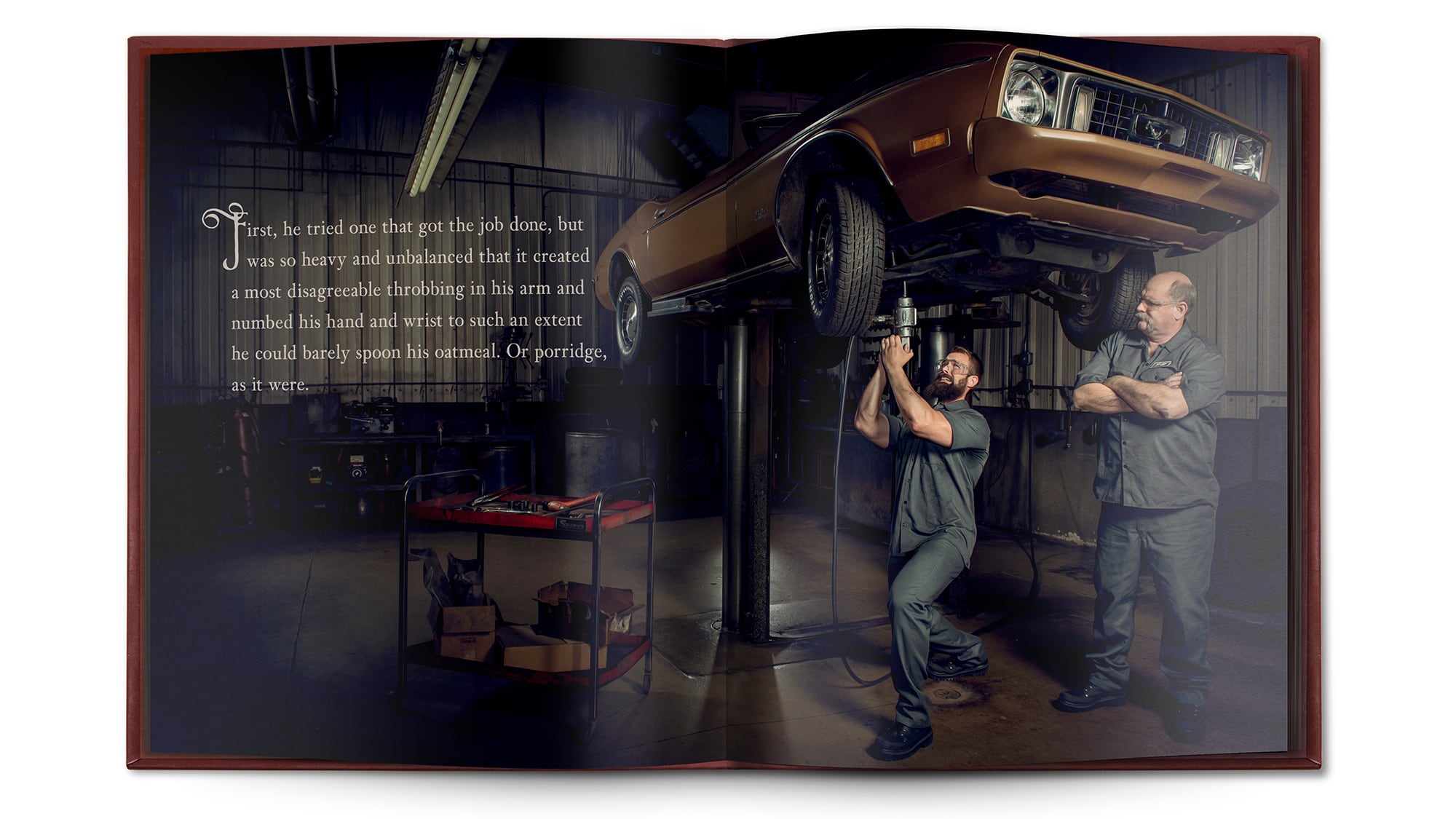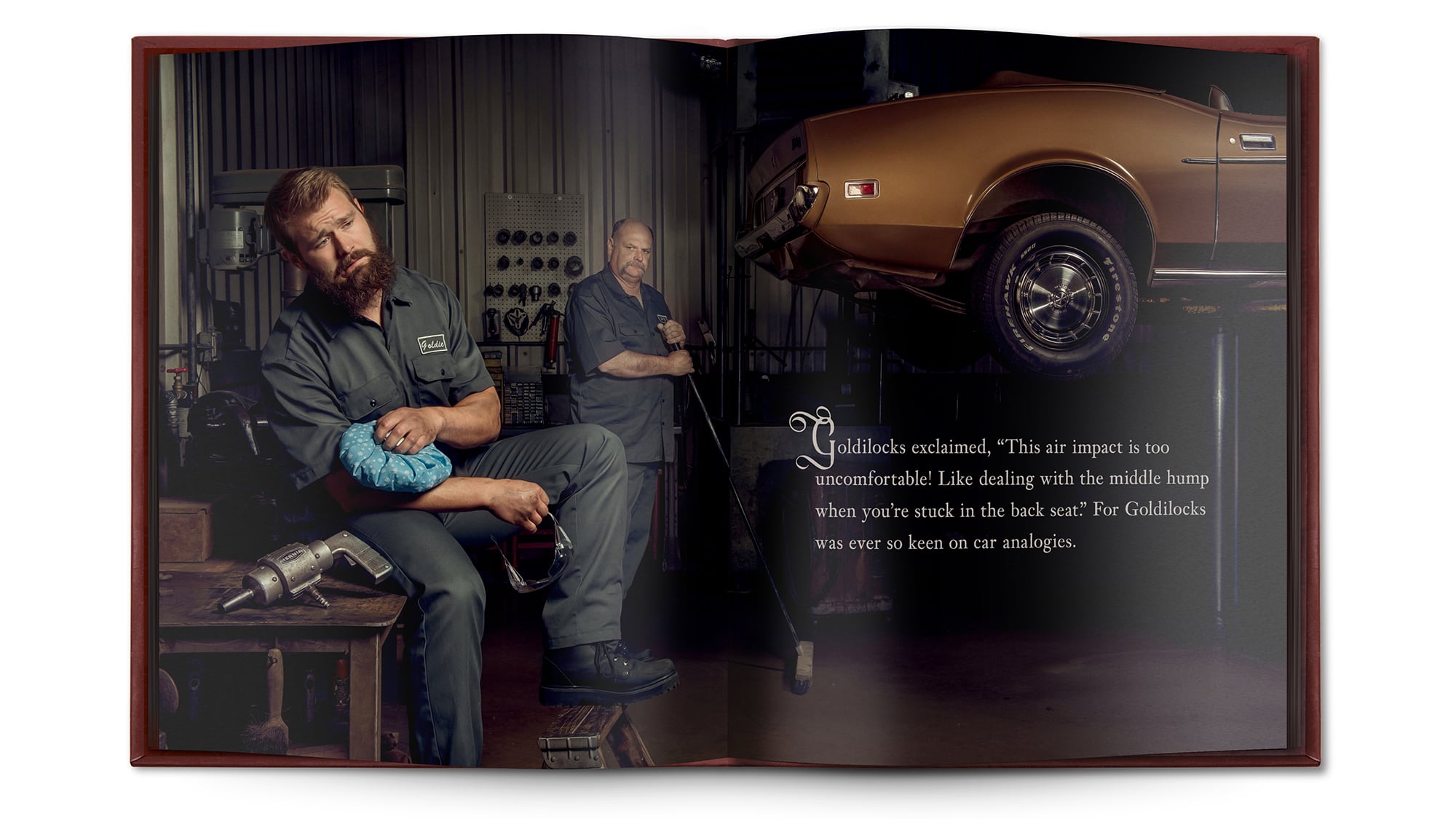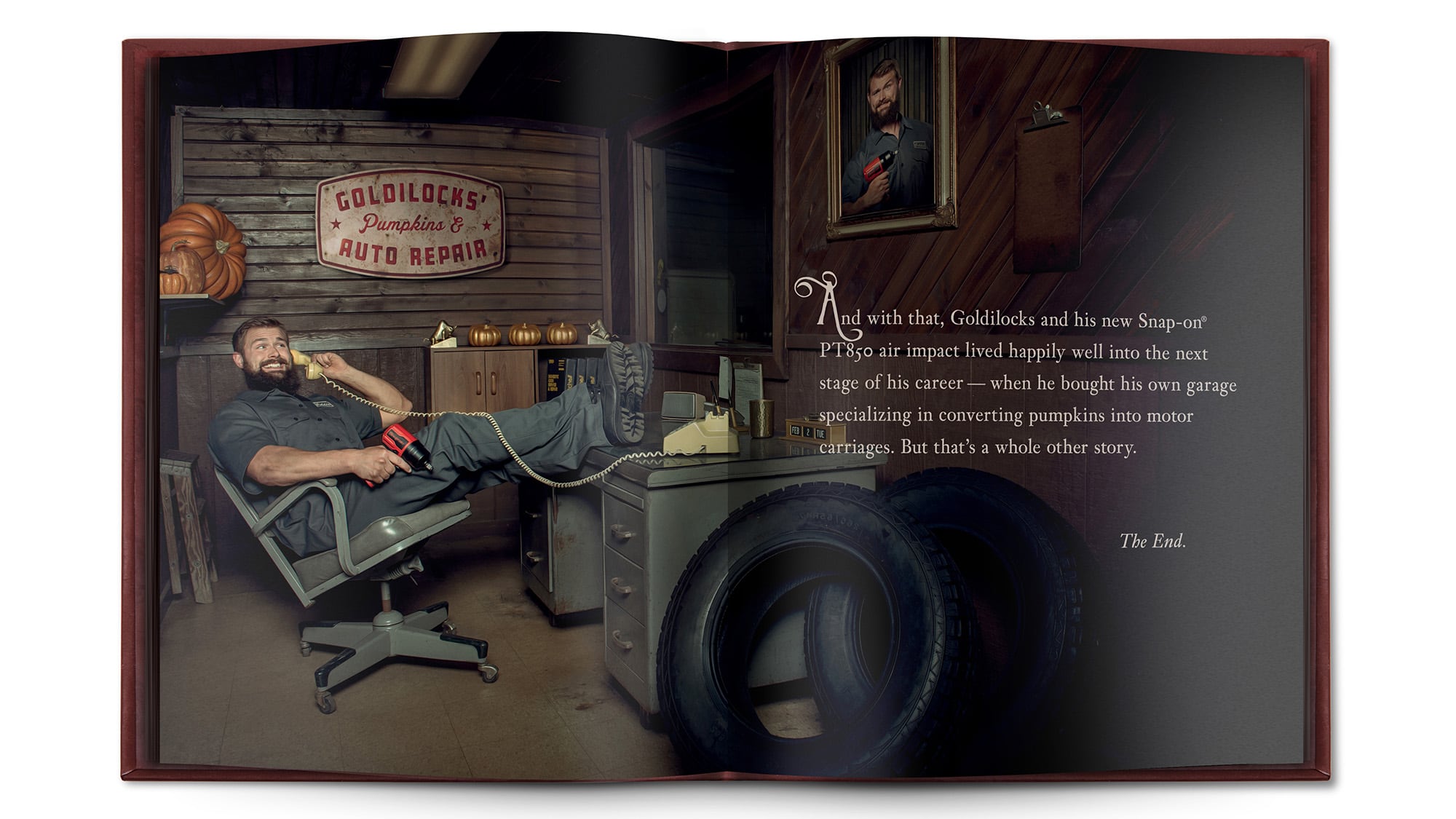 STORY TIME ON SOCIAL
Not to be outdone by the printed storybook, we produced a two-minute telling of "Goldilocks" for Snap-on's social channels, replete with warm narration and animations to bring the story to life.
CONTINUING THE FANTASY
To further extend the campaign in digital and social media executions, we added motion to several of the photographs to create cinemagraphs, furthering the sense of wonder through the subtle yet intriguing technique.
JUST RIGHT INTEGRATION
For Goldilocks to have the greatest reach among customers, we continued the campaign in print ads, sales collateral, cover features, social content and trade show displays.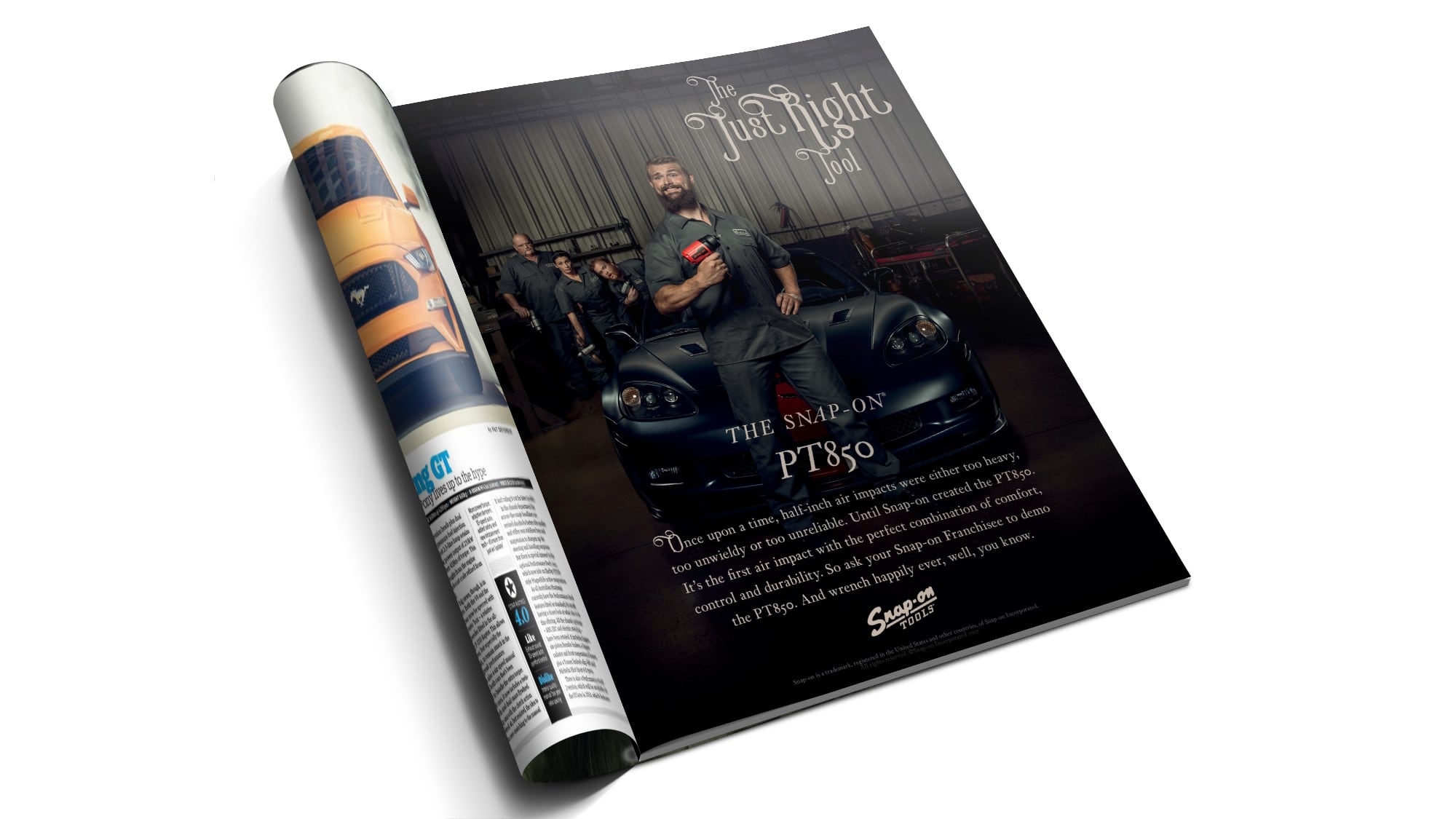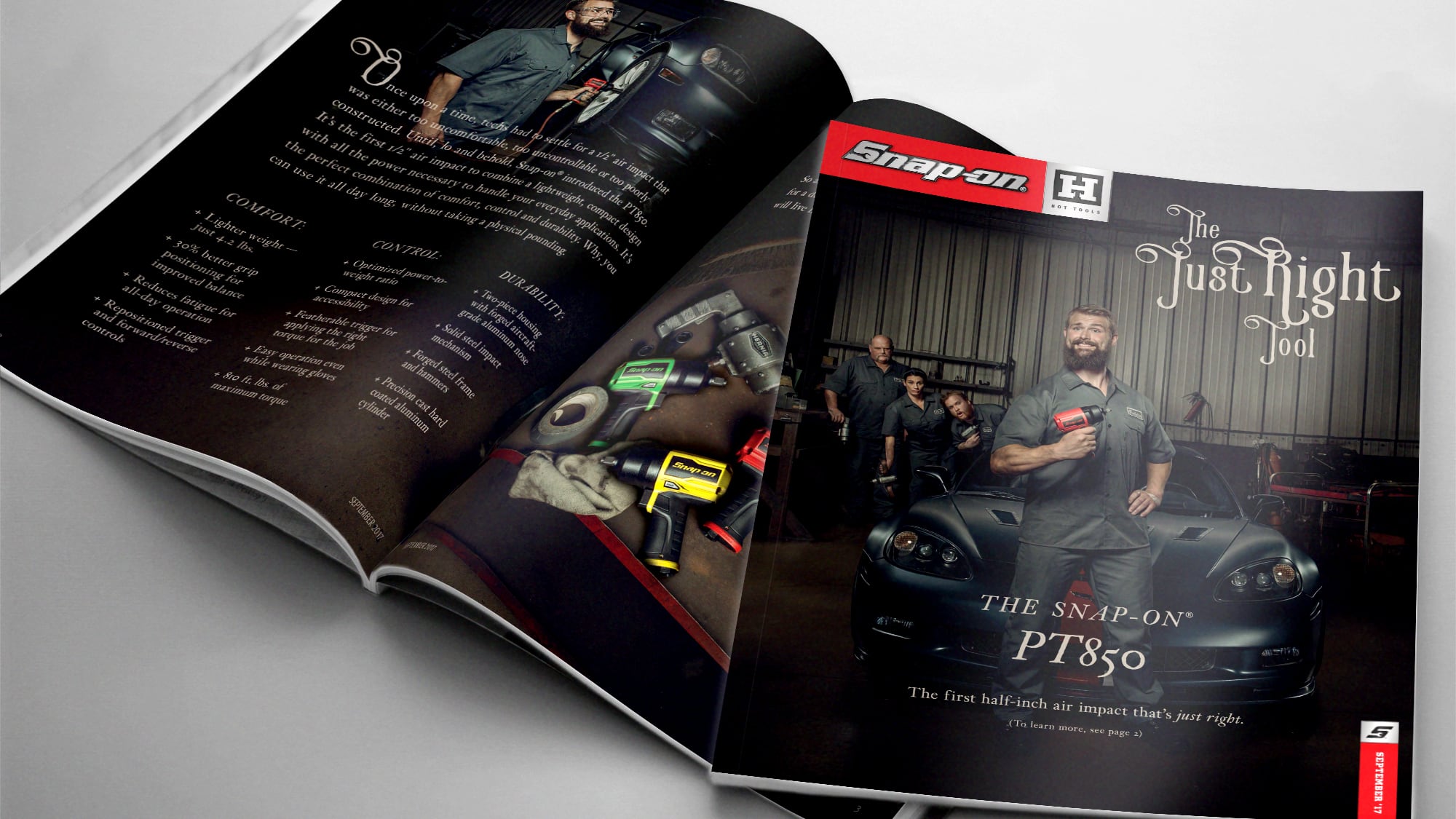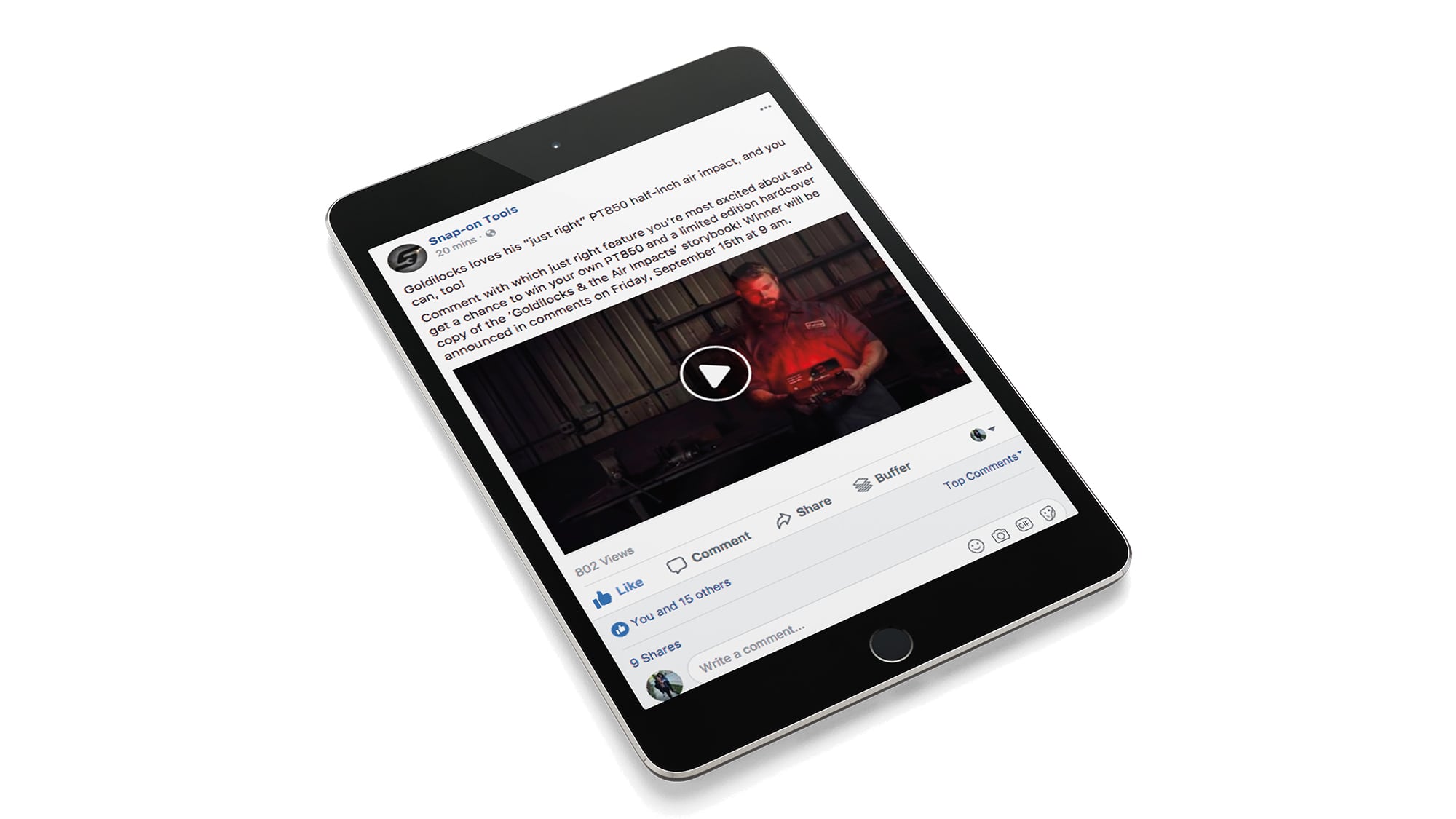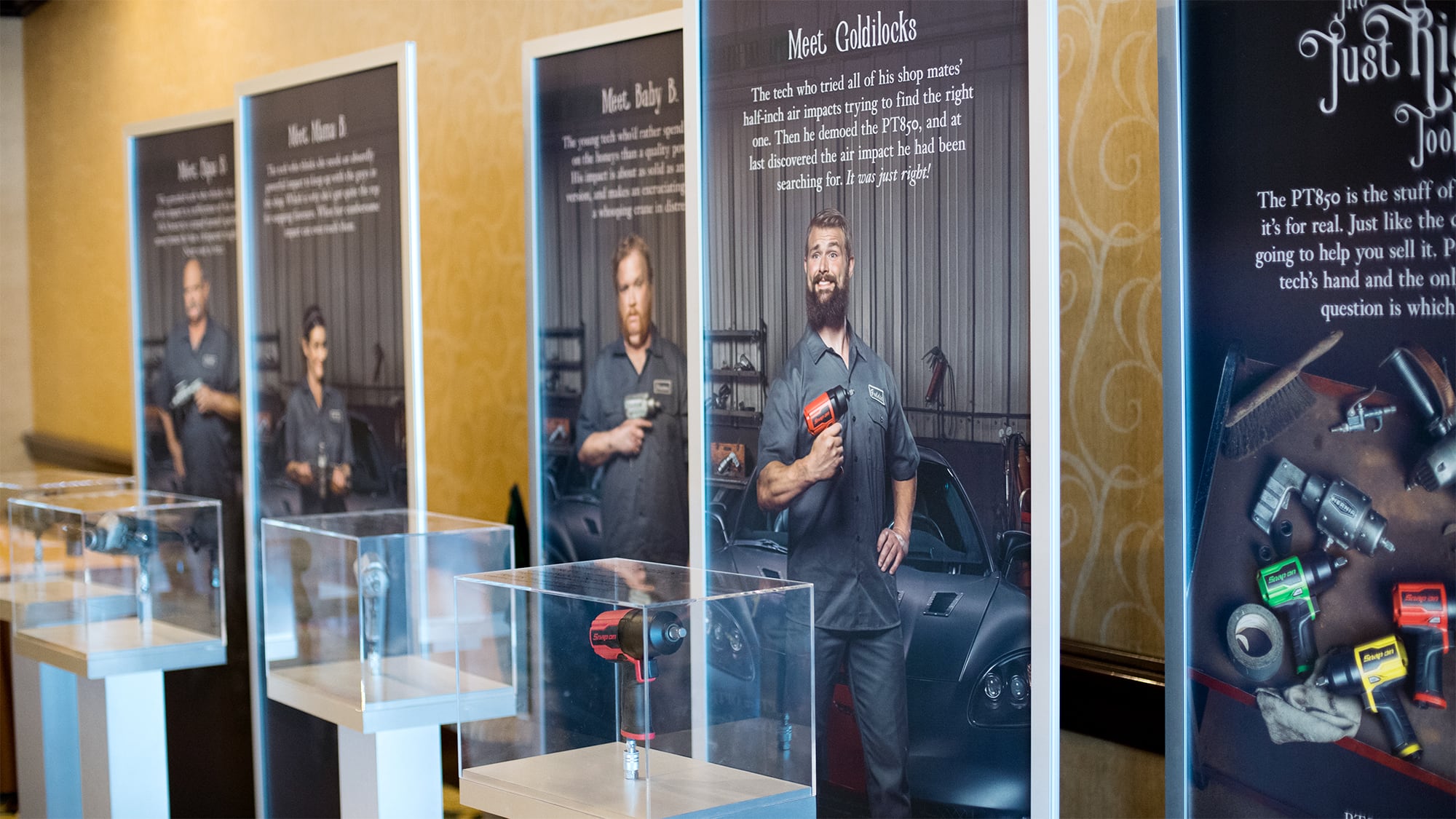 A BIG IMPACT
Customers and franchisees around the globe were ecstatic about the campaign. Social content garnered thousands of engagements and shares while franchisees' print stock of "Goldilocks" books were swiftly exhausted, prompting collectors to buy and trade the book on the internet. Excitement over the campaign even led one competitor to "respond" to Snap-on's launch materials. And to top it all off, initial sales of the PT850 exceeded 130% of its projected launch volume and overall sales of its predecessor tool by 60% — proving that our solution, like the PT850, was just right.